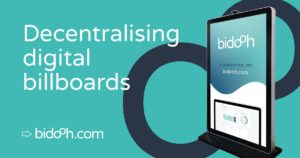 Bidooh, a real-time, real-audience, digital billboard advertising platform, announced that it has secured contracts from two partners based in the Czech Republic and Romania to operate its blockchain-based facial analysis billboard platform on live advertising screens across Eastern Europe.
The two contracts combined cover an initial allocation of approximately 300 screens and target a roll-out of 3,000 screens over a three-year period. 27 screens are currently live in Bosnia and Herzegovina under the Balkans contract, generating over one million direct interactions in the last 30 days.
The contracts have been awarded following the success of the UK Test Network, currently operating on 16 screens across four different locations in the UK: Manchester Deansgate, Oldham, Rochdale and Nottingham. To date, over 500 advertisers have signed up and used the platform since the first site went live in November 2017.
Bidooh is forming a decentralised digital billboard network which offers publishers immediate access to the Group's global selection of screens. Bidooh intends to primarily grow its screen network by purchasing and deploying its own screens in shopping malls and other high footfall locations. However, in order to rapidly extend the reach of its platform, it is also entering into licence agreements with regional partner operators around the world.
Highlights of the Balkans Contract:
An initial 27 screens currently live in Bosnia and Herzegovina under the contract with Darko Ban–Bidooh CZ, a partner operator in the Czech Republic;
Screens live in shopping centres and malls, cinemas and theme parks in the following cities: Sarajevo, Zenica, Vitez, Kiseljak, Gracanica, Mostar, Banja Luka, Bihac, Brcko and Tuzla;
Over one million direct interactions registered in the last 30 days;
Bidooh Platform to be run on screens across the Czech Republic, Bosnia and Herzegovina, Croatia and Slovakia;
2,000 screens targeted as part of a full roll-out over a two-to-three-year period.
Highlights of the Romania Contract:
An initial 50 screens to be installed in Q4 under contract signed with Mihai Bulugea–Bidooh Romania, a partner operator in Romania;
Bidooh-enabled screens to be installed across Bucharest, Constanta and Craiova;
Screens to be installed in shopping centres, commercial centres, offices, parks, petrol stations and airports;
1,000 screens due to be installed as part of a full roll-out over a three-year period.
Abdul Alim, co-founder and CEO, commented: "It is extremely pleasing to have signed these commercial contracts, which highlight the global appeal of our offering and our ability to scale up according to the needs of our customers. In particular, Eastern Europe is experiencing a proliferation of shopping malls which are seeking the latest technological advancements to generate advertising revenues. They are attracted by our use of blockchain technology to relay accurate, verifiable advertising data in real-time. Our digital billboard platform has already been a success across the UK and we now look forward to doing the same on a global basis."
"Bidooh is the only available bridge between small businesses and the power of outdoor advertisement. Anyone can afford it, accessible from anywhere and with no binding or budget restrictions, all in real time! This is what makes Bidooh truly unique," added Darko Ban, CEO of Bidooh CZ. "The opportunity is massive. We have started the roll-out in Bosnia, which is an emerging market where very few screens, if any, exist in malls and other similar venues. We estimate approximately 100 screens to be installed in Bosnia alone and, together with the other Balkan countries, Bidooh's platform will operate on up to 2,000 indoor screens."
Source: Bidooh