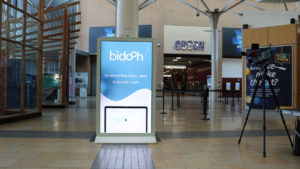 Bidooh, a real-time, real-audience, digital billboard advertising platform, announced that it has  launched the Initial Coin Offering (ICO) of its cryptocurrency, DOOH Token. It follows the successful raise of the $5m soft cap during the pre-sale period.
Since announcing its pre-sale on October 1, Bidooh has secured listings for its DOOH Token on exchanges globally, signed multiple commercial contracts and continued to roll out its digital billboard platform to new territories.
Bidooh's blockchain-based platform is fully GDPR-compliant and uses anonymised facial analysis to produce targeted adverts in real-time. For the advertiser, this means that unattributable audience data is immediately time-stamped and recorded on the blockchain, enhancing trust and transparency. For the consumer who chooses to directly engage with the adverts, and gives their consent via Bidooh's app, they will be rewarded with DOOH Tokens, which can be held, traded for advertising space or redeemed at participating retailers and restaurants.
"We have been delighted by the interest in Bidooh since the launch of our token pre-sale. It shows the widespread support for our vision of revolutionising real-time digital billboard advertising and the benefits of modelling our platform around blockchain technology both for the advertiser and the consumer. Our DOOH Token has secured the support of some of the world's largest digital exchanges and we continue to make solid progress on signing commercial contracts to roll out Bidooh's platform across a global network of screens," said Abdul Alim, co-founder and CEO. "We thank those who took part in the pre-sale and welcome all new participants in the ICO which is launched as per our original schedule. The DOOH utility token has been specifically designed to offer discounted advertising space, on the Bidooh Platform and allow holders to benefit as the tokens rise in value."
Source: Bidooh