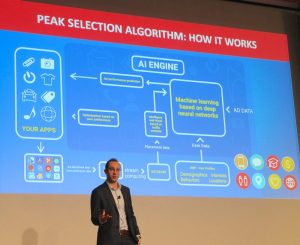 Baidu, the leading Chinese language Internet search provider, has announced that its new mobile ad platform DU Ad Platform (DAP) leverages machine learning AI technology to enhance ad performance prediction and increase advertising revenues. The announcement was made during the Open Mobile Summit event in San Francisco, California.
DAP's "Peak Selection Algorithm," which determines ad pricing, includes a proprietary AI engine built on machine learning technology. When ad data, placement data and user data are fed into this AI engine, it can accurately predict ad performance and significantly boost ad placement revenues.
"From a technology standpoint, DU Ad Platform is the best way for mobile developers to monetize their apps," said Josh Fenn, senior marketing manager at Baidu's Global Business Unit. "Our machine learning AI engine is significantly more efficient than traditional systems."
DAP is Baidu's mobile ad platform for Android developers to advertise to users based outside of China. The platform leverages Baidu's own traffic from its international apps, which have a cumulative 1.6 billion users worldwide covering 200 countries including India, Brazil, Indonesia, Thailand, Egypt, Japan and the US.
To educate mobile developers about DAP, Baidu is attending three conferences in the San Francisco Bay Area. From November 29 – 30, Baidu attended Open Mobile Summit, and senior marketing manager Josh Fenn gave a presentation. On December 7, Baidu will hold a workshop for mobile developers titled "Lessons From the East," during which BD managers Renee Zhang and Elaine Hu will discuss monetization strategies on DAP. On December 8, Baidu will attend the GrowthStack SF event.
Source: Baidu