Audi's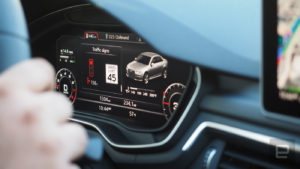 traffic light countdown has been rolling out very slowly in the US (it's active in just seven cities so far), but it just made one of its biggest expansions yet: it's now available in Washington, DC.
Pull up to one of 600 connected intersections in the country's capital and your compatible Audi will tell you how long you have before the light turns green. You shouldn't be caught off-guard when an interminably long red finally changes.
The feature requires a "select" 2017 or 2018 model with Audi Connect Prime, and uses the car's included LTE data to talk to smart traffic lights as you get close.
Washington's addition brings the total US intersection count to 1,600 — that's a 60 percent increase from one city. We wouldn't expect other expansions to be as large (it depends on how much they've invested in smart infrastructure), but it suggests that Audi's technology is becoming more than a novelty that you might only see once or twice on a drive.
The real question is whether or not other manufacturers, such as Audi sibling brands like Volkswagen and Porsche, will follow suit. Smart cities are only truly smart when you don't have to be picky about your choice of vehicle.
Source: Engadget