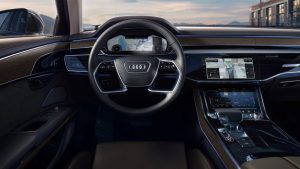 Audi has worked with HERE Technologies to integrates an array of advanced navigation and location technology from HERE to provide guidance throughout the day.
Smartphone and web companion applications sync journeys and routes from the device to the car before the driver sets out.
The smartphone app gives you first mile guidance to the parked vehicle, as well as last mile guidance to the final destination.
Inside the car, the new-generation MMI navigation system augments the interior of the Audi A8 by feeding the car's cluster, head unit and rear screens with urban and terrain maps rendered in 3D.
The maps have been designed to convey important information with the right level of reduction. For example, important visual cues such as landmarks are easily recognizable, without being distracting.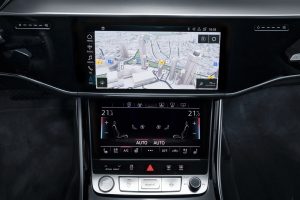 The experience is accessible across multiple screens, allowing all of the car's occupants to interact with the map, search for places and set destinations.
The MMI navigation system learns, commutes, and helps drivers take the optimal route to work, based on current road conditions and live information about potential hazards on the road. It will even help find parking. As the car approaches its destination, the system displays nearby parking recommendations.
As the Audi A8 drives, it compiles a model of the road using predictive road data for several miles ahead, effectively enabling the car to 'see' beyond the reach of its sensors.
This model of the road, generated by Electronic Horizon software from HERE, consists of two types of information: the first is detailed information about the road, including lane configurations and geometry; the second is dynamic data, such as traffic, potential hazards and speed limits.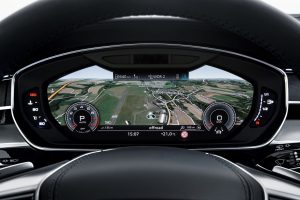 HERE Electronic Horizon translates this information into actionable data for the car's ADAS applications, such as adaptive cruise control and traffic sign recognition, to further enhance their performance.
The advanced navigation and location technology HERE has brought to the Audi A8 is also planned to feature in future Audi models as well as in selected vehicles offered by additional brands in the VW Group.
Source: Net Imperative