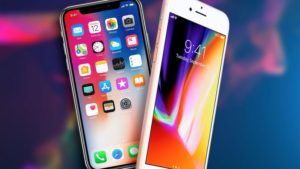 Apple has its nose in front of Samsung once more.
Apple's phone sales fell second to the Korean electronics giant for the first three quarters of 2017, but with the iPhone 8, 8 Plus and X going on sale in the fourth quarter, it's back in front, according to IDC's quarterly report on smartphone market share. Apple sold 77.3 million iPhones in the last quarter of 2017 (19.2 percent market share), just ahead of Samsung's 74.1 million (18.4 percent).
That was despite Apple's overall sales of iPhones dropping 1 percent for the year compared to 2016. The iPhone X, Apple's most expensive phone to date, didn't fly off store shelves as expected, with reports pointing to Apple halving its production run for the first quarter of 2017. Still, Apple CEO Tim Cook said in a press release that the iPhone X was "the top-selling iPhone every week since it shipped in November," and the pricier iPhone lineup scored all-time records in quarterly profit and revenue.
For the year as a whole, 2017's worldwide smartphone shipments suffered a small decline, less than 1 percent, with shipments falling from 1.473 billion units in 2016 to 1.472 billion.
Outside the top two for 2017's last quarter, Huawei held its place in third, with a market share of 10.2 percent. The most-improved was Xiaomi, whose impressive premium Xiaomi Mi 6 competes with the Galaxy S8 and iPhone 7. It hit fourth with a 7 percent market share, double its 2016 fourth quarter share of 3.3 percent, finding most of its new customers in India and Russia. Oppo, another Chinese company looking to expand through Asia and worldwide, dropped to fifth.
Source: CNET