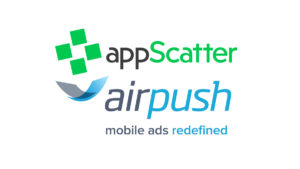 Mobile app distribution and monitoring specialist appScatter Group PLC has signed its first major partnership since listing on AIM last September.
App advertising network Airpush will promote appScatter's platform to its clients in return for 10% of the revenues generated by the collaboration.
Customers who sign up through Airpush also get a 20% discount for the first 12 months of use.
Airpush's platform is integrated into 250,000 mobile app, mobile web, and virtual reality properties and sees the tie-up with appscatter as a way to enhance revenue for its clients.
Appscatter has 75 app stores on its roster and is especially strong in emerging markets where the vast majority of app downloads are not carried out through sector giants Apple or Google.
In a trading update, appscatter added that sales and losses in 2017 are expected to be in line with market expectations, with good initial momentum so far in 2018.
Before making its platform live, 10,000 app developers and owners registered on its platform and its plan is to convert as many as possible of these to paying subscribers.
Philip Marcella, appScatter's chief executive, said: "We're extremely excited about partnering with Airpush and starting a mutually beneficial relationship that will open doors for both companies. The agreement is our most significant to-date and shows real progress against our growth plans. We're delighted that such a prominent brand has aligned itself with appScatter and we look forward to starting work together immediately."
Source: Proactive Investors