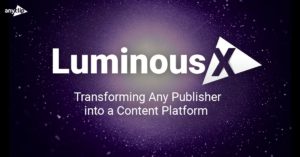 AnyClip, an AI-powered video content platform, has announced the launch of its brand-new video player for publishers in the digital media community. Their video player aims to minimise the cost and complications that publishers may face when creating and distributing video content on various platforms, such as unexpected fees. AnyClip's new video player delivers free video streaming, free content storage, and requires no ad serving fees for publishers.
Along with zero operating costs, publishers are also given the option of using AnyClip's premium content library and LuminousX software, which has just been recently launched. LuminousX, a contextual video content, engagement, and monetisation solution, analyses and categorises the content of any web page, and sorts it in accordance with IAB standards. Using machine-learning technology, LuminousX then creates a live feed of relevant information and data, including brands, celebrities and categories.
AnyClip's video player will give publishers full editorial control and the option to use any content they choose. Publishers will have a choice of using their own advertising campaigns or take advantage of AnyClip's campaign library. Additionally, the video player will provide publishers with free dashboards and performance analytics and feedback.
"Paying for commodities like video players is now a completely obsolete concept. Publisher after publisher has shared with us their frustrations over the high cost of delivering video content," said Gil Becker, CEO and president of AnyClip. "We are proud to be the first company to offer publishers the quickest player with zero operating cost and access to the best content matching and engagement technology. Publishers are no longer shackled with the need for costly video players and can finally make money with video."
Source: Mobile Marketing Magazine