It's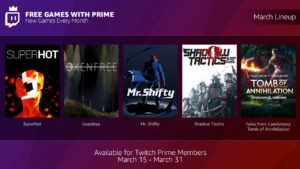 been more than a year since Amazon first tapped into Twitch's customer base with perks to improve their experience. Now, the online giant has started offering free games from their archives for Prime customers to keep.
Twitch announced that starting on March 15 those customers would get a pair of free games, Superhot and Oxenfree. Starting on April 1st, new titles will be released, such as Tales from the Borderlands and SteamWorld Dig 2. This is the first time Amazon and Twitch have used their partnership to hand out games on a regular basis.
Eight games from the Twitch Prime Indie Amplifier will also be free over the next few months, the company said. Twitch posted a full list of upcoming free games for the rest of March and April. For Twitch Prime users, this looks like a lot of new value to your membership.
Source: The Verge