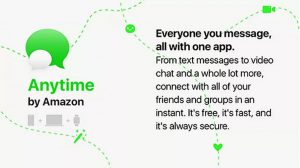 Amazon is reportedly developing an encrypted messaging app called Anytime, designed as a direct competitor to WhatsApp, Facebook Messenger and other popular messaging apps.
According to a report in AFTV News, the encrypted service could integrate SMS, video and voice calls, stickers, gifs and emojis, games, photo sharing, '@mentions' and photo and video filters.
The service could also integrate shopping and payment features offered by Amazon, such as allowing group food orders and assistance with bill splitting.
People could use the messaging app to chat with businesses for customer service enquiries, to make reservations, check their online orders and shop.
The product would aim to break down a major barrier for many popular messaging apps; the need for a tag, already established connection or phone number to establish first contact.
In the AFTV report, Amazon said that Anytime would allow consumers to "reach all your friends just using their name. No numbers needed," although it is unclear how this feature would work.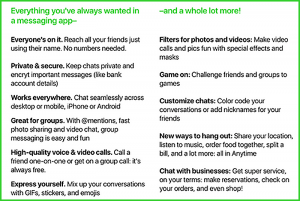 The report states that Amazon has been carrying out surveys among its customers to collect feedback on which features should be included. Leaked screenshots revealed a list of potential features. It was reported by one customer that Anytime is a "ready product" preparing for launch.
Amazon already has one consumer communications tool up and running. having launched Chime earlier this year. Chine is a video-conferencing service for businesses that charges up to $15 per user per month for large video meetings and additional features.
The company's multipurpose Alexa devices are also capable of messaging and calls, although this function is restricted by the need for both users to have an Alexa device or app. The soon-to-launch Echo Show, a touchscreen Alexa device, will be capable of hosting video calls.
Source: Net Imperative