Amazon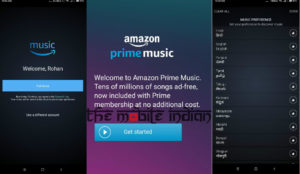 has launched its Prime Music service in India, giving its Indian Prime members access to 10s of millions of songs across international and Indian music labels in over 10 languages including English, Hindi, Tami, Punjabi, Bengali, and more.
The eCommerce giant introduced its Prime service to India about 18 months ago – though it was lacking both video and music at launch. It added Prime Video a few months after the launch, and has finally added Prime Music to the mix.
"We believe music listeners are going to love Amazon Prime Music as we bring a global service that's been truly localised in its selection and curation," said Sahas Malhotra, director of Amazon Music India. "With ad-free streaming at no additional cost to Prime members, Amazon Prime Music offers a welcome break from text and voice ads that come between you and your favourite music. Moreover, with voice controls the music listening experience cannot get any simpler, making music listening delightful, effortless and a natural experience for customers. Listening to your favourite music has never been more fun."
Prime Music is available through mobile apps on Android and iOS, a desktop app, a web player, Amazon Fire TV sticks and Amazon Echo devices.
Source: Mobile Marketing Magazine