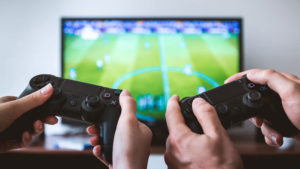 Amazon is developing a Prime Video-like streaming service for video games via a monthly subscription, The Information reports. The company is planning on using its already established cloud computing service to enable subscribers access to unlimited AAA games on their mobile devices. Although there has been no official announcement regarding the service, sources say Amazon video game streaming wouldn't be available until 2020 "at the earliest".
Competitors such as Sony, Microsoft and Google already have similar video-game streaming services, but Amazon could quickly become a key player in the market. It already owns and operates Twitch, the largest video game livestreaming service in the world, giving them marketing access to millions of gaming enthusiasts. The tech giant also already has its own worldwide cloud computing infrastructure, Amazon Web Services, which commands 32 per cent of the market.
The report from The Information states that Amazon has already begun approaching video game publishers to partner with the game streaming service, but big-name brands may be reluctant to share profits and property.
There are numerous reasons why publishers may want to get involved with Amazon specifically, considering most big-budget video games must be played on a gaming console or computer. Amazon's technology would make the same high-quality video games accessible on all mobile devices such as smartphones and tablets.
According to The Verge, Amazon has recently posted job openings for an undisclosed project, seemingly for their video game streaming platform. One of the listings even stated the position would be a "rare opportunity to take a technical leadership role to shape the foundation of an unannounced AAA games business."
Source: Mobile Marketing Magazine