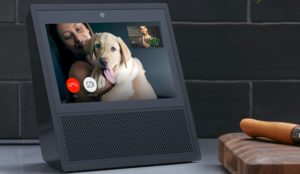 Amazon has released a set of APIs that enable smart home cameras and doorbells to connect and communicate with Echo devices.
Developers are able to use the Doorbell Event Source and Motion Sensor APIs to enable customers to connect their doorbell and camera motion sensors to Alexa. The APIs give these customers the choice to turn on voice 'Announcements' for their front door smart products via the smart home section of the Alexa app, and they also enable customers to set up smart home automations using 'Routines' within the app. Both Ring and August devices have implemented the new APIs so far.
In addition, the tech giant has released a 2-Way Communication API, enabling smart cameras and doorbells to establish two-way communication with the Echo Show and Echo Spot. Ring has already implemented this API with August introducing the feature soon.
Currently, the three APIs only support WebRTC-compliant cameras or 3Ps, which use a WebRTC bridge to connect to Alexa. Furthermore, Alexa voice commands are currently only available on full duplex cameras, while half duplex cameras have push to talk capabilities on the Echo Show and Echo Spot.
Source: Mobile Marketing Magazine