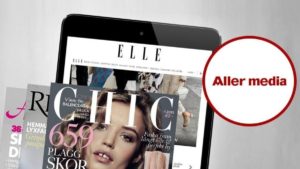 ADvendio, a Salesforce-based advertising management solution for publishers and media owners, announces that Aller Media has deployed its application to consolidate their advertising operations. The solution will manage the advertising lifecycle from quotation to billing.
By automating workflows, Aller Media looks to improve the collaboration between sales, operations and accounting teams. With a strategic driver to consolidate several different legacy CRMs in their business units, Aller Media was seeking a scalable cloud-first solution that was fully compliant with EU privacy regulations. It will also contribute to align a variety of third-party ad server, ad exchanges, flat planning software, and accounting system integrations.
Over the past 5 years, Aller Media has been transitioning from a traditional print media organization to become a leader in subscription and advertising sales in digital media. To consolidate its international vision, Aller Media was challenged to align its processes under one master order management system across the region, consolidating different languages and currencies in a geographically distributed team.
ADvendio will connect Aller Media full digital process with features such as its Salesforce-powered CRM, a rate manager, billing runs, availability forecasts as well as its invoicing, reporting and analytics tools.
Magnus Westmar, Business Relationship Manager – Marketing & Sales at Aller Media, explains: "Throughout this process, ADvendio have treated us as a partner, not a client. They have done everything in their power to make this project a success."
Tina Jensen, Marketing Technologist tells that, "the project has different stakeholders, from sales, back office, finance, editorial, and IT, with challenging integrations and a tight rollout plan for the Aller companies in Norway, Sweden, and Denmark."
Klaus Wessel, Senior Technical Account Manager at ADvendio, is delighted with the results and appreciates Aller's move towards a lean management process.
"For this project, we were able to use ADvendio's advertising sales management functionality for Aller's essential business processes. We combined ADvendio's digital ad server connections as well as integrations for print. Now ADvendio, Adportal, Preflight-System, and flat planning solutions are working hand in hand," he says.
Tina Jensen is pleased with the end results of the implementation: "as a project manager, it has been fantastic to see how fast the users have adapted to ADvendio and the Salesforce platform. The sales reps have quickly understood how to create their advertisement orders in the system. In terms of project management, the ADvendio team has been great to work with. They have  been there side by side."
Source: ADvendio