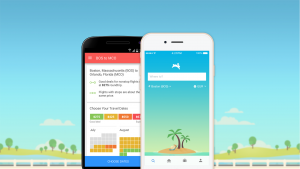 After years of work, travel startup Hopper is seeing strong growth, says Frederic Lalonde, the company's co-founder and CEO.
The startup, which has offices in Montreal and Boston, makes an app that helps users save money on airfare by telling them when to buy tickets in order to get the best price. So far, it's been used to book almost 8 million flights.
"The fundamental growth is what we're excited about," Lalonde says.
Hopper is now the third most popular travel app in the United States, ahead of many more established travel brands. That growth isn't just in North America.
"We've started to trend up internationally. Currently, we're selling tickets in 123 countries and we are the top travel app in 39 countries and top 10 in 98," Lalonde says, citing numbers from April.
Almost a quarter of the company's revenue now comes from outside North America, something Hopper hadn't planned for, Lalonde says. Instead, that growth is all organic.
Hopper was founded in 2007, the idea was to build a travel planning and discovery site that would aggregate all the best travel-related content on the internet and make it easily searchable. When the site launched in early 2014, though, it didn't get the expected traction.
But among the data that Hopper had gathered was information on over a billion flights. It gave Hopper insight into the best times to buy plane tickets. The pivot was "brutal," Lalonde says.
An iOS app launched in January 2015, the Android version followed in August. Now, Lalonde says that Hopper can predict ticket prices within five dollars up to a year in advance. "But just being accurate wasn't enough to break into an already crowded market," he says.
"This is a consolidated category, there's brands that have been selling tickets electronically for decades and decades now, we needed to invent something completely different," he says. That's why Hopper went app-only.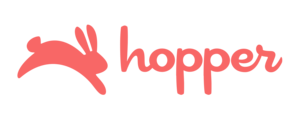 "What's exceptional, I think, about how we're doing this is that if you look at the conversation, which we do over push notification, 90 per cent of all of our revenue comes from a push notification and 85 per cent of our users have push notifications turned-on, those are social media numbers," he says.
Last month, Hopper sent around 12 million push notifications to users, he says. Most of those notifications are telling users to wait for the price to go down.
"What we do through that conversation is build trust and reassurance," Lalonde says.
It creates a different relationship with customers than most travel companies in a market where people are always worried they'll miss a better deal. The next step for the company will be to expand that conversation.
Hopper isn't just seeing traction; it's also gotten some recognition from the makers of the two biggest mobile operating systems. In late May, it won the Google Play Award for Standout Startup. It was the first time that Google had given awards to what it thinks are the best apps on the Android platform.
In December, it was named one of Apple's top 10 favorite apps of 2015. The only travel app on the list.
Still, challenges remain. People are become accustomed to buying plane tickets on their laptops.
"Where we're competing is getting people to change their behavior," Lalonde says. "I'm sure there's tons of people who use Hopper and still buy on their laptop, but eventually they'll move over, we're sure of that."
Source: Tech Vibes