In-feed native advertising platform Adyoulike announced the launch of its Native Creative 2.0 formats, bringing advertisers and publishers new options for visually-dynamic, interactive ad units that better engage and activate audiences. The new units, which seamlessly integrate in-feed on publisher properties, are available for native mobile and native video advertising as well as for web-based native.
With the launch of Native 2.0, Adyoulike is enhancing the value of publishers' native inventory, supporting more effective ads and providing better experiences for consumers. Using the new interactive features and animations, brands can deliver more attention-grabbing units in the age of "banner blindness." This increased visibility elevates impact, helping achieve campaign goals such as increasing site visits, enhancing brand awareness and boosting sales.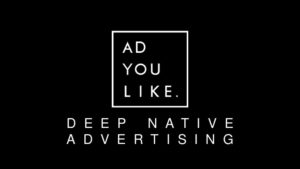 Francis Turner, US General Manager and Chief Revenue Officer of Adyoulike said: "In the increasingly cluttered digital advertising landscape, creative storytelling is an imperative for anyone looking to take a larger share of consumer attention. With Native 2.0, we're helping brands and agencies to deliver the types of engaging, content-driven experiences that are proven to drive engagement, brand awareness and ROI. At the same time, we're offering publishers a novel approach that increases the value of their native inventory."
The launch of Native Creative 2.0 is the latest innovation from Adyoulike, a company committed to breaking new ground for advertising technology. Adyoulike was the first company to integrate IBM Watson Artificial Intelligence in a native advertising solution, bringing better semantic and contextual relevance to help ensure brand safety.
Most recently, the company was among the first native technology providers to introduce server-to-server (S2S) header bidding, which gives publishers more control over their inventory, including the ability to offer private marketplace deals (PMPs) for specific buyers.
Source: Adyoulike