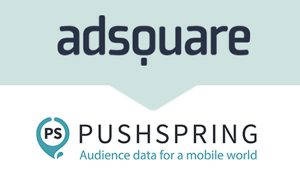 adsquare have announced that PushSpring audience data will now be available on adsquare's mobile-first data exchange. PushSpring specialises indeterministic mobile audience data sourced entirely from mobile apps offering targeting capabilities at scale across over 200M mobile ad IDs in North America.
The partnership between adsquare and PushSpring introduces a next generation of mobile marketing capabilities with a uniquely differentiated data offering. Using advanced machine-learning techniques applied across billions of mobile device signals including app ownership to classify users, data is broken into over 250 audience segments delivering truly differentiated audience inputs and segments, ranging from demographic, interest, and lifestyle-based categories.
The agreement marks an expansion of audience targeting capabilities for marketers, by adding PushSpring's robust and validated deterministic mobile app data to adsquare's current holistic offering of multiple data categories including location, offline and purchase data.
Advertisers, brands, and enterprises can now access PushSpring's unique offering and create 360° panoramic campaigns via our open marketplace in our AMP and seamlessly deliver them through adsquare's integration with leading platform partners.
Our CEO Tom said about the partnership: "Having access to accurate deterministic data from app ownership along multiple data dimensions is the key to successful mobile programmatic campaigns. Our partnership with PushSpring brings to the market plenty of new opportunities for improved targeting and campaign success addition of trusted and validated deterministic data to our current data offering."
"We are excited to partner with adsquare and expand access to PushSpring's mobile-originated deterministic app data. The adsquare mobile marketplace enables advertisers a unique ability to include PushSpring audience data as a key part of their mobile targeting strategies and ensure that their campaigns will meet their goals," said Brandon Zirkle, PushSpring's VP of Partnerships.
Source: adsquare