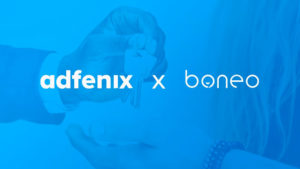 Social media marketing platform Adfenix announced its brand-new partnership with property portal, Boneo, to help estate agents fight back against the online dominance of property portals. 
The strategic partnership aims to set a new precedent in the marketplace, using a tech-led, collaborative approach to combat the hegemony of online property portals which has resulted in estate agents being increasingly marginalised in the buying and selling process.
The combination of Boneo – a property portal set up by seven of Sweden's leading estate agents which allows agents to pool resources for mutual benefit – and Adfenix – the social media marketing platform built specifically for real estate agents – will open up a new data set for estate agents that will let them provide a high quality digital customer experience. The result of this partnership will be a more personalised way to reach customers before they begin their journey through the portals, ultimately re-establishing estate agents as the trusted experts in property.
The partnership sets a precedent for estate agents in the UK and globally who are planning or have created their own portals – indicating how they can take it to the next level by targeting the most interested customers and delivering them a highly relevant digital experience. The benefits for estate agents include higher quality traffic direct to listing pages which result in faster time to sale, the ability to build and differentiate their brand, the capacity to reach both buyers and sellers, and importantly a reduction on the spend on portals
Munyaradzi Hoto, Chief Marketing Officer at Adfenix says: "The partnership between Boneo and Adfenix is a natural alliance that will allow estate agents to build trust and authority, bringing personal connections back to an increasingly digitised and disrupted sector. The impact of online property portals has been enormous. Estate agents have seen their commission squeezed by increasing expenditure on the portals, and reaching sellers is harder and more expensive than ever. But while the customer journey has become digitised there is still a desire for a personal experience. Adfenix and Boneo can deliver that real relationship between estate agents and customers. For estate agents, becoming digital first is a necessity for survival. Boneo allows estate agents to pool their resources and data, and the addition of Adfenix to their digital strategy opens up new ways to more precisely use this customer data to deliver a higher quality customer experience."
Marcus Svanberg, Chairman of Boneo and CEO of Länsförsäkringar Fastighetsförmedling adds: "It was important for us to identify the right strategic technology partner to support in delivering this new and exciting solution to the market. In Adfenix, we have found a partner that brings rich market expertise and cutting edge AI-based technology to the table. Adfenix enables Boneo to obtain a deep understanding of buyers and sellers as they engage in the property discovery and transaction process. The results we have seen with Adfenix's platform and technology are exceptional on the market and are what make this strategic collaboration so exciting."
Source: Adfenix