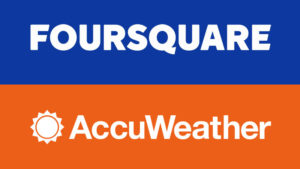 AccuWeather has partnered with Foursquare, the location technology platform, to deliver AccuWeather app users even more personalisation and contextually relevant information, available at their fingertips at the right time in the right place to make better choices and even more informed decisions.
Available in the next few days on AccuWeather's award-winning iOS and Android apps, users can receive information about businesses based on the weather around them. To do this, AccuWeather is partnering with Foursquare and leveraging its trusted Pilgrim SDK, which provides contextual awareness of more than 105 million venues worldwide in the Foursquare Places database.
As users go through their daily routines and as the weather changes, they will receive notifications for places in their vicinity that could impact the choices they make for the day ahead. For example, if the weather forecast calls for rain, AccuWeather's app could send a notification recommending that there is a specific retail location around the corner that sells umbrellas. To take advantage of this new feature, AccuWeather users can opt-in to share the anonymised location of the device they are using and receive notifications, just as they do to get the most accurate, localised weather forecasts.
AccuWeather products honor device location settings and only process location data to provide functionality that users want for greater safety, insights and personalization, such as severe weather alerts or location-specific weather forecasts.
"Our chief mission at AccuWeather is to deliver the most accurate weather forecasts and warnings to our users to help them make more informed decisions about their day and ultimately protect the things that matter most to them by giving them the right information at the right time, right where they are, while protecting data privacy," said Steve Smith, AccuWeather's President of Digital Media.
"AccuWeather has adopted a privacy-by-design approach ensuring that new features and functionality are not only developed to improve our users' experience of AccuWeather products but also follow strict guidelines to protect data privacy. With this collaboration, we are making our weather forecasts even more actionable for our users by tying weather and place together."
Smith further added that by embedding Foursquare's location intelligence into AccuWeather's core products, its free app will be able to keep users safer and more prepared than ever before by giving them a physical understanding of what is around them, especially during times of severe weather.
This latest evolution of the AccuWeather app will give users yet another level of convenience by providing best in class, real time weather information coupled with real time suggestions about what to do or where to go next using Foursquare's rich, up to date venue database. The partnership will also help enable advertisers on the AccuWeather platform to deliver contextualised, segment based, location aware ads and sponsored content during heightened times of weather impacting events.
"Knowing that it's about to rain and there is a store nearby where they can quickly pop in and buy an umbrella or knowing an ice cream shop is around the corner when the afternoon is calling for record high temperatures is something we think our users will value, especially when they find themselves in unfamiliar surroundings when traveling for business or pleasure, for example," continued Smith.
"Our partnership with AccuWeather has always been about pairing the best location data with the best weather data. It's a dream combination," says Peter Krasniqi, VP Global Enterprise and Business Development at Foursquare. "Everyone looks at the weather before they leave the house, and now AccuWeather's app will also include Foursquare's Pilgrim SDK to alert users with hyper-local weather alerts. It will also be used to power location-based advertising by using our global database of 105 million places of interest."
As a pioneer in the mobile weather category, this new capability joins the design, usability, and the Superior Accuracy in weather forecasting that users rely on from AccuWeather as the No. 1 weather app worldwide. AccuWeather's patented AccuWeather MinuteCast—the leading minute-by-minute forecast of precipitation over the next two hours, hyper-localised to a user's exact street address or pinpointed to a GPS location—has continued to expand globally to provide this life-saving weather information to more users than ever before. In addition, with the 2018 hurricane season underway, AccuWeather app users are able to access tropical storm map layers.
These maps track storms using AccuWeather's proprietary hurricane models, which have been shown to be more accurate than those used by government weather services. For those suffering seasonal allergies, AccuWeather's extended 7-day Allergy Index provides information on the risk level of environmental allergen triggers conveniently on the home screen of the app.
The award-winning AccuWeather apps for iOS and Android provide the most accurate, actionable weather forecasts and warnings in an innovative, advanced mobile experience personalised to each user worldwide. The app also includes AccUcast, the only crowdsourced weather feature that provides current weather conditions and hazards submitted by users in a real-time global animation map display, plus AccuWeather Real Feel, Future Radar, and much more.
Source: AccuWeather