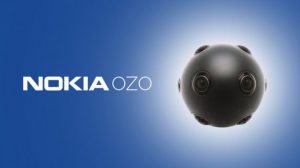 Happy Finish, the VR content specialists and global production studio, announced its partnership withNokia as an OZO VR partner. Happy Finish will work closely with Nokia to produce professional-grade virtual reality content, in an effort to continually improve the capabilities of the all-in-one 3D, 360 degree audio/video camera, launched earlier in 2016.
Happy Finish has already completed over 20 commercial VR shoots using OZO, as well as countless tests, working closely with Nokia to continue to enhance its ever-evolving software and hardware.
Nokia OZO has taken the VR industry by storm, providing an all-encompassing solution for 3D 360 degree video and audio capture, an effect that has long required custom-made rigs for success. With eight built-in lenses, OZO records 3D 360 degree video with real-time monitoring and live broadcast capabilities.
The unit also includes comprehensive stitching software to streamline the editing process, providing a significant improvement for close-capture stitching compared to complex 360 video rigs. With OZO actively improving its capabilities, the partnership between Nokia and Happy Finish will continue to push the boundaries of what is possible in 3D 360 degree video production.
Csilla Kozma Andersen, Head of Content Relations at Nokia Technologies commented on the working partnership, saying, "Happy Finish has been instrumental in our successful European launch of OZO. They have delivered best-in-class OZO VR productions for the fashion and entertainment worlds, and have been a superb partner in meeting the needs of Nokia's customers throughout Europe."
Daniel Cheetham, Chief Interactive Officer at Happy Finish remarked, "Working closely with the team at Nokia as a production partner has also been invaluable. Where in the past we've worked with multi camera arrays which have many more constituent components to contend with – and therefore more elements that could fail; OZO acts like one camera. We've found this to be a huge help in streamlining shoots, allowing us to focus more energy on the creative and the possibilities in stereo 3D 360° capture. We are looking forward to continuing to push the limits in 360° and VR content creation and OZO is one of our key tools."
Source: Happy Finish