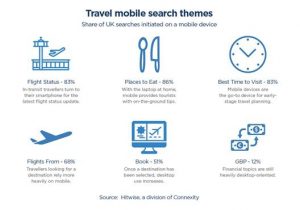 60 per cent of all travel-related searches begin from mobile devices, with figures climbing as high as 88 per cent for certain keywords, new figures from consumer behaviour firm Hitwise have revealed.
Consumers are increasingly beginning their purchase journey for holidays on mobile, and marketers' strategies should reflect this significant shift in consumer behaviour, with a focus on capturing people as they start the process of holiday planning.
68 per cent of searches for "flights from" are mobile-led, with 80 per cent of searches for "5 star", "luxury" and "glamping" beginning on mobile and 83 per cent of searches looking for the "best time" to visit a location initiated on smartphones and tablets.
The trend towards mobile also continued once trips had started, with smartphones the device of choice for 86 per cent of "places to eat" searches, 76 per cent of "things to do" and 88 per cent of searches using "near me".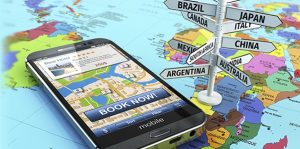 "The Hitwise data shows a clear preference for holiday-related mobile searches, particularly from would-be travellers planning their trips, really highlighting for brands and advertisers the important role mobile plays in the travel sector," said Nigel Wilson, managing director at Hitwise.
"Recently, Virgin announced its soon-to-launch mobile app, simplifying the booking process and providing pre-filled customer preferences to make the consumer journey seamless. Whilst hotel booking sites, such as Expedia, have been on the mobile booking case for a long time, the airline industry has been slow to adopt mobile flight booking.
"Marketers in this space need to understand how their audiences are utilising mobile to access information so that they can be everywhere the consumer wants, with the right experience desired. Rather than replicating experiences between desktop and mobile, it's vital they create something different, engaging and attentive to the needs of that person at that time."
Source: Mobile Marketing Magazine