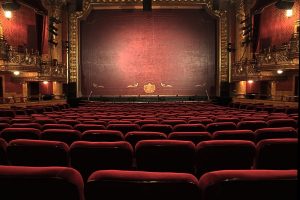 Preoday, the e-commerce company that provides hospitality companies with leading mobile and online ordering and promotions technology, has signed Wolverhampton Civic Hall and its sister venue, the Wulfrun Hall, as its 29th and 30th theatres in 2017. The double-signing brings the total number of theatres working with Preoday to 30.
Theatres using the Preoday platform have seen an average basket size of £15.03 from nearly 16,000 customers to date – though some venues have seen an average as high as £30 – and more than £20,000 in revenue. Just over 45% of orders have been placed using the venues' mobile apps, while 55% have come through their web ordering portals. With new theatres joining every month, customer numbers and revenue figures are rising rapidly.
The 29th and 30th theatres, The Civic Hall and sister venue the Wulfrun Hall, are major hubs for live entertainment in Wolverhampton and the Black Country. Visitors with tickets to the gigs, comedy nights, circuses and sporting events staged at the venues can use their combined pre-ordering app or website to order drinks and snacks for quick collection during show intervals.
City of Wolverhampton Council Cabinet Member for City Economy, Councillor John Reynolds, comments: "We're excited to join the other venues working with Preoday as we embrace the digital age in our historic venues. Consumers increasingly turn to their phones or the internet to manage their work, life and entertainment, pre-ordering and paying for show refreshments is the next stage in this trend."
Nick Hucker, Head of Business Development at Preoday, adds: "When people think about pre-ordering in relation to food and drink they usually imagine restaurants, takeaways and coffee shops. In fact, pre-ordering is applicable to many more areas of the market than that, and theatres is one where consumers have taken particularly well to the technology. Theatre intervals are typically 20 minutes long, and queues can fill the whole time. Queues put people off buying, meaning customers go un-refreshed and theatres lose out on custom and revenue – pre-ordering can help prevent this."
In November, Preoday launched MyOrder London, the capital's first centralised refreshment app and online ordering service. Featuring theatres, concert halls and performing arts venues, the aggregator groups some of London's top events venues, giving patrons a one-stop-shop for pre-ordering and paying.
The National Theatre joined Preoday in Summer 2017 and also features on its art venue aggregator, MyOrder London. Neil Brooke, Head of Catering Operations at the National Theatre says: "At the National Theatre we are and the latest generation of theatre-goers are increasingly tech-savvy, organised and time efficient. By introducing this new app we are offering audiences the opportunity to maximise their time and enjoyment in the theatre."
Source: Preoday