YouAppi, a leading mobile growth marketing platform for premium mobile brands, announced the launch of its comprehensive, 360 Degree Growth Marketing platform, designed to dramatically increase acquisition and retention of high-value customers for the world's hottest mobile brands. YouAppi's platform is the first of its kind in delivering unprecedented insight into the mobile user experience, leveraging Artificial Intelligence and machine learning to analyze 66 unique data parameters across 4,200 apps and mobile sites, in use by 2 billion people in over 200 countries and territories.
"A full 86 percent of mobile marketers today identify user acquisition as their highest priority," said Moshe Vaknin, founder and CEO at YouAppi. "With the challenges around a crowded marketplace, shifting consumer preference and an ever-changing technology landscape, marketers need one comprehensive platform that delivers the acquisition, engagement and retention necessary to meet demanding KPIs. To date, YouAppi has driven more than 35 million app downloads of top tier brands around the world, and we do it with unparalleled transparency and safety."
The 360 Degree Growth Marketing Platform is the next generation of YouAppi's OneRun platform, and works across six distinct pillars to deliver a highly optimized user journey that begins with awareness, propels toward purchase and continues to deliver via re-engagement. YouAppi currently represents 470 of the top brands in the world and oversees nearly 17,000 unique campaigns, collecting unprecedented data insights across 2 billion users and 100 billion monthly impressions.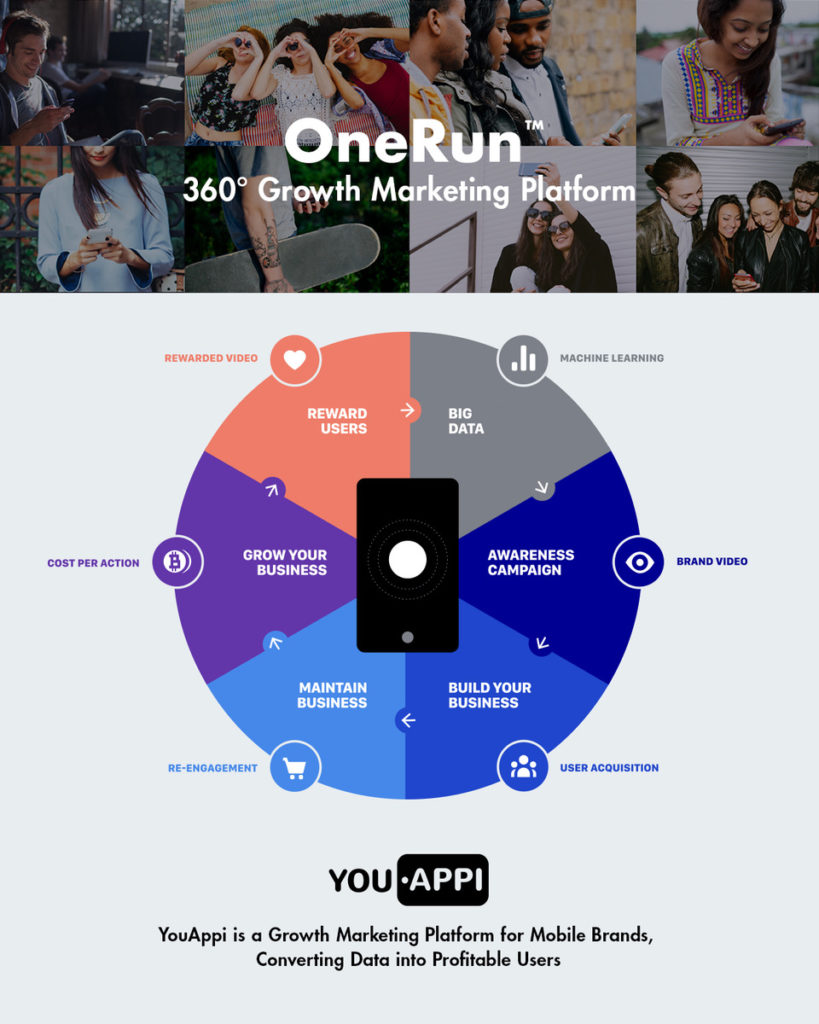 "We're constantly looking to acquire quality users who will be long-term players of our games, and The YouAppi platform delivers the exact type of users that BitMango finds valuable," said Woosik Seong, user acquisition manager at BitMango. "Their team is not only easy to work with, but dedicated and always prompt. Working with YouAppi has really empowered us to achieve our KPI goals."
The platform's six pillars include:
Machine Learning: Advanced data algorithms across 66 distinct parameters deliver actionable analysis and recommendations to optimize and deliver on KPI measurements.
Brand Video: Highly targeted native feed and in-banner videos drive awareness with extensive reach, full transparency and the highest standard of ad viewability – without compromising brand safety.
User Acquisition: Proprietary machine learning and AI capabilities optimize a campaign's life cycle and deliver true return on advertising spend (ROAS), including purchasing increases as high as 170 percent and retention upwards of 60 percent – across retail, utilities, productivity, games, lifestyle, travel, social and communication.
Re-Engagement: Full-circle approach targets re-engagement activity prior to install and continues through app life cycle, using Deep Linking to ensure a seamless ad-to-app experience, and driving post install retention.
Rewarded Video: Maximizes user engagement by providing recognizable value, while machine learning capabilities increase engagement via customizable and interactive experiences.
Social: Provides marketers and app developers the opportunity to convert 1.5 billion active profiles on Facebook and Instagram.
Source: YouAppi