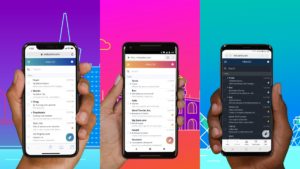 Oath's Yahoo Mail platform is getting a mobile-focused facelift, with an updated mobile web experience and a new app optimised for entry-level Android Go phones.
The improved mobile web version is designed to bring the user experience closer in line with the app, providing more native interactions on a smartphone. Users can interact with their inbox more quickly by swiping right to mark messages as 'read' or left to delete them, and the inbox has been reformatted with an infinite scroll, rather than users having to hit 'next' to see more emails.
The look and feel of the inbox can be personalised, with various new colour themes available, and can also be more easily organised with folders. For convenience, users can also add an icon to their home screen that links directly to the Yahoo Mail mobile browser experience, bringing it even closer in line with app functionality.
The Android Go version of the app aims to appeal to users in developing markets where the stripped-down version of Google's operating system is used for entry-level smartphones. The Yahoo Mail Go app delivers the same features currently available to standard Android users while keeping the RAM usage on devices below 50MB, and the install size below 10MB.
According to Yahoo, the original Yahoo Mail app is already pretty lightweight, meaning that an Android Go version could be created without removing any major features, and using the same architecture as the standard app.
"By 2025, the number of global mobile internet users is predicted to expand by over 50 per cent," said Joshua Jacobson, senior director of product management at Yahoo Mail. "We believe it is important to understand and meet the specific needs of this massive wave of new mobile users, and deliver the same first-class Yahoo Mail experience regardless of device, location, storage capacity, or network speeds."
Source: Mobile Marketing Magazine