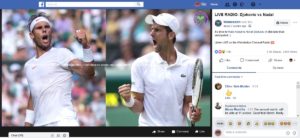 The All England Lawn Tennis Club (AELTC), host of the Wimbledon Championships, has announced it has seen great success from an innovative platform launched this year that streams live audio coverage to social media, registering over 750,00 views and generating direct engagement with just under 60,000 fans.
The Wimbledon Radio Channel, the organisation's live radio broadcast of The Championships, was produced by IMG and encoded by the body's official technology partner IBM. It was delivered to Facebook using Visual Radio, a new component created by browser-based production platform Grabyo Producer.
The rich listening experience combined an audio frame with custom graphics and animations, and enables radio distribution to Facebook, Twitter and YouTube, as well as other websites and mobile apps. Viewers were also able to connect with each other through comments and posts, connecting the wider fanbase and community.
Using Facebook Live, fans of The Championships were able to listen to the matches including the ladies' and mens' finals, with the live match streams receiving almost 60,000 comments, shares and reactions.
"The popularity of the Wimbledon Radio Channel across our Visual Radio broadcasts exceeded all expectations," said Alexandra Willis, head of communications, content & digital at The AELTC. "The Wimbledon Radio Channel performs incredibly strongly across Wimbledon.com and our official apps, and to be able to extend that audience is fantastic. 500,000 people alone listened to the Nadal-Djokovic semi-final which demonstrates our commitment to offering the best access for our fans to enjoy The Championships and engage with our content, and we believe the response shows we have achieved this."
"We developed Visual Radio to meet the growing demand from fans for live audio broadcasts on mobile and social platforms," said Gareth Capon, CEO of Grabyo. "Building participation and community features into the product was important, fans want to feel involved with the action whilst communicating with each other. This service also creates new opportunities for brands to connect with different audiences beyond traditional TV. The AELTC has led the way in what is an exciting new step for audio streaming, and we expect Visual Radio to play a major role in live social content in the future."
Source: Mobile Marketing Magazine