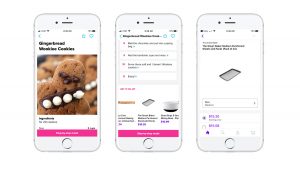 Walmart has struck a deal with BuzzFeed's Tasty app to help the retailer sell its kitchen tools, appliances, and groceries to the viral recipe hub's tens of millions of followers.
Starting December 7, Tasty's step-by-step recipe videos will contain links to buy products featured in the videos — such as pots and pans, bakeware, and other kitchen tools — directly on Walmart.com and Jet.com, which is owned by Walmart.
In the coming months, links to purchase recipe ingredients on both sites will also be added to the videos.
This will open Walmart to a vast market of potentially new customers, and it could help grow its online grocery business once links to purchase food are added to the app's videos. Tasty is a massive social media franchise with nearly 91 million Facebook followers, and its highly shareable recipe videos have accumulated more than 65 billion views.
"Consumers today are shopping very differently," Sumaiya Balbale, Walmart's vice president of e-commerce, mobile, and digital marketing, told Business Insider in an interview. "Content and commerce are coming together in more seamless and impactful ways."
Balbale said Walmart and Tasty have been in talks about the partnership for months. She said Walmart was inspired by how Tasty is "redefining how people find recipes." In the same vein, Walmart is looking for new ways to get its products in front of shoppers.
The Tasty deal marks the first time that Walmart and Jet are coming together for an exclusive partnership with a media outlet.
Walmart is hoping the partnership will help the brand reach tech-savvy millennials "in a deeper way," while also broadening Jet's exposure beyond the young, urban shoppers it attracts, Balbale said.
Source: Business Insider