A mobile multiplayer strategy game based on Robert Kirkman's "The Walking Dead" comics — not the cable TV show — is now available to swarm over your smartphone.
"The Walking Dead: March To War," from games developer Disruptor Beam, adopts the visual style of the Kirkman comics from Skybound Entertainment. The role-playing game is set in the futuristic ruins of Washington, D.C., where players must work with — and against — each another in real-time to survive.
The "March to War" storyline is separate from the AMC Networks series. The new game is set shortly before the events of the comics' Volume 20, "All Out War," as Negan's demands on Alexandria and other communities increase.
In "The Walking Dead: March to War," a walker horde surrounds the D.C. area, trapping four communities together along with many new independent ones. Players must navigate a large-scale map of Washington, D.C., that includes real-world landmarks like the White House as well iconic locations from "The Walking Dead" universe, including Sanctuary and Hilltop.
Disruptor Beam, based in Framingham, has previously created mobile games based on "Game of Thrones" and "Star Trek" properties.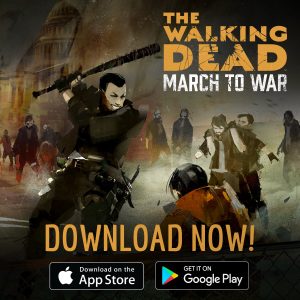 "Disruptor Beam has an impressive track-record of bringing beloved franchises to mobile in a way that both respects and expands universes like 'The Walking Dead'," Dan Murray, president of Skybound Interactive, said in a statement. "They've delivered an authentic representation of the comics on mobile devices with 'The Walking Dead: March To War.'"
"March To War" gameplay features include fighting walkers and other players; building and managing your base and defenses; scavenging for resources; and forming alliances with other players. Ultimately, players must lead their community by training the survivors and recruiting "Walking Dead" characters such as Negan and Rick to be powerful council members.
Skybound Entertainment also has a pact with Skydance Interactive to develop multiple virtual-reality games based on "The Walking Dead." Skybound has worked previously on "Walking Dead" mobile games with other developers, including Scopely and Telltale Games.
Separately, AMC and Next Games announced plans for "The Walking Dead: Our World," a location-based augmented-reality mobile game (a la "Pokemon Go") in which you must eliminate zombies that appear on your mobile device as if they were lurching right in front of you.
"The Walking Dead: March To War" is available free to download on Apple's App Store and Google Play. Fans can register to receive game updates at MarchToWar.com.
Source: Variety