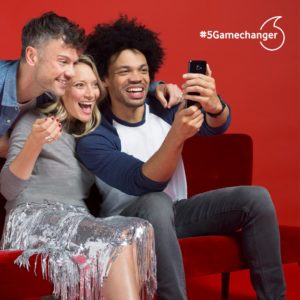 Vodafone has launched its 5G network and will become the first company to offer unlimited data on both 5G and 4G with the launch of Vodafone Unlimited on the 10 July 2019. Vodafone will not charge a price premium for access to its 5G network and all unlimited SIMs are 5G ready.
The new unlimited data plans also extend to the new Vodafone Together service, which combines mobile and broadband in one bill. Vodafone also becomes the first UK provider to offer customers 5G roaming in four European countries in some of the most popular tourist and business locations over the summer, at no additional cost.
Vodafone UK Chief Executive Officer Nick Jeffery said: "5G will transform the way we live and work. Our customers are streaming over 50% more content today than they did last year, and with 5G the demand for data is only set to increase. That is why we want to remove the limits on data, so that customers can unlock the full potential of 5G, and we can really propel the UK into the digital age. By offering unlimited plans to our consumer and business customers, we will revolutionise the market. We will give customers all the data they need, when and where they want it."
With 5G and Vodafone Unlimited, a user can have gaming on the go, high definition streaming on the sofa, uploading, downloading, vlogging, blogging, virtual reality, augmented reality, connected cars, cows and coffee machines – all with fast connectivity, low lag and no worries about your data limit.
The switch-on was marked with the world's first demonstration of the power of 5G to transmit touch using haptic technology. Two players from Wasps rugby team were able to run a training session despite being more than 100 miles apart.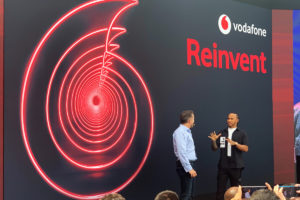 The impact of a rugby tackle made by Will Rowlands at the Ricoh stadium in Coventry was transferred via 5G to teammate Juan de Jongh on stage in London. Juan, in a specially developed haptic Teslasuit, was able to feel the force of the tackle in real-time thanks to Vodafone's high speed and super low latency 5G. Vodafone recently announced a new sponsorship and technology deal with Wasps rugby and netball teams.
Formula 1 Five-Time World Champion, Lewis Hamilton, officially opened Vodafone's new 5G service. As a British sporting icon, tech fan, gaming enthusiast, global roamer and someone synonymous with speed, Lewis was the natural choice to switch on the Vodafone 5G network. He will act as a 5G ambassador for Vodafone, helping to bring to life the potential of 5G to be a real game-changer.
Source: Vodafone