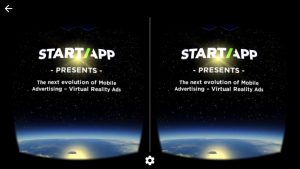 After designing, launching and analyzing their first virtual reality (VR) campaign, users are more inclined to look straight ahead and to the right, says mobile marketing platform StartApp.
Based on a heat map of user eye movements, StartApp found that users spend more than 50% of their time inside the ad on the front and right-hand side of a 360-degree environment. They spent less than 10% of their time with the left side or top of the ad.
Ariel Shimoni, director of VR at StartApp, said that in the future they will recommend that VR ad creatives have their most important features in these locations based on this campaign.
Other than heat map data, Shimoni says the orientation and position of the device is valuable data, so advertisers can tell when and where users are looking and whether or not they are even paying attention to the content.
The format still has a long way to go though, says Shimoni.
"I can't tell advertisers that users will love their ads, but I can tell them that if you make it interesting enough, they'll want to explore, because VR is built to allow users to explore a 3D digital environment," said Shimoni. "We have an opportunity to learn the format [with a smaller group of users]."
Shimoni says he expects that the market will grow more quickly with the launch of Google's mobile VR headset later this year. He says he expects mobile VR to be a gateway to full headset VR and an avenue for more brands to jump into mobile in general.
Source: Media Post