Uber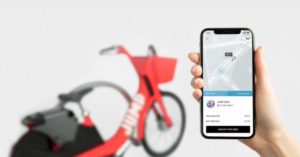 has announced it's joining the bike sharing game as part of a partnership with JUMP Bikes. Users will soon be able to find nearby electric bikes and rent them for a while. It's one of those features which could be described as "like Uber, but for bikes" only this time it's actually Uber.
According to Uber, the option will be folded into Uber's existing app as a "Bike" tab. Once the user selects that tab, they are shown the locations of several local JUMP electric bikes. Once their time is up, they can return the bike to any rack within a certain area.
Andrew Salzberg, Uber's head of transportation policy and research, says, "We're particularly excited about bikes because they can provide a convenient, environmentally friendly ride even in dense cities where space is limited and roads can be congested."
JUMP bikes' claim to fame is that they're dockless — meaning you don't need to return them to a special slip. You unlock the bike's lock with your smartphone, and the bike can be returned to any rack when you're done. It's currently the only bike sharing company with a permit to operate stationless bikes in San Francisco.
It's not the first time Uber has attempted to capitalize on the agility of bikes. In 2014, it launched UberRUSH, which began as a bicycle courier service, but now allows deliveries via car and scooter as well.
Uber will be testing the option in a San Francisco-based pilot program.
Source: The Next Web