Uber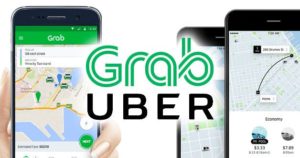 is preparing to sell its Southeast Asia business to Singapore's Grab in exchange for a sizable stake in the company, according to two sources with knowledge of the matter.
No deal has been reached yet, and the timing of any such deal is uncertain.
Grab provides private car, motorbike, taxi and carpooling services in more than 100 cities across Southeast Asia. The company claimed to have 95 percent market share in taxi ride-hailing when it announced plans to raise more than $2.5 billion from SoftBank and other investors in 2017.
The move would mimic Uber's strategy in China, where the company sold its ride-hailing operation to Didi for 20 percent ownership, and Russia, where the company merged its local business with Yandex's ride-hailing business for a 37 percent stake. The objective would be to help Uber reel in its costs in preparation for an IPO as soon as next year, said the sources, who asked not to be named because the discussions are confidential.
Since taking over for co-founder Travis Kalanick in August, Uber CEO Dara Khosrowshahi has focused on cleaning up the company's battered reputation and instilling financial discipline to push toward profitability. Uber's loss surged 61 percent in 2017 to $4.5 billion, according to numbers released this week, though its loss in the fourth quarter narrowed from the prior period.
A tie-up with Grab would also play into SoftBank's efforts to exert greater control over the global ride-sharing market. In January, the Japanese tech conglomerate bought about a 15 percent stake in Uber, mostly buying shares from existing investors. SoftBank also owns shares in Grab, Didi, India's Ola and Brazil's 99, and has publicly expressed interest in Lyft, Uber's main U.S. rival.
At the recent Goldman Sachs Technology and Internet Conference in San Francisco, Khosrowshahi said that competing against local players is very hard.
"I think the team ran through an inventory of where we competed, and if we compete on let's say even on a dollar-for-dollar basis against the local player, paying the same amount to drivers, collecting the same amount from riders, in general where we are now is, if both players are kind of spending equally we tend to win share. We've got a better brand, we've got better technology, better network, etc. Whatever it is, we tend to win share. There's certain markets, China and Russia, where that wasn't true. And if your only competitive advantage, or the only reason you can be in a market is because you can spend money, that's not exactly a reasonable proposition."
Reuters reported in November, citing industry sources, that a SoftBank investment in Uber would make it possible for the company to consolidate some of its ride-hailing assets across Asia. An Uber investor told Reuters that shutting its Southeast Asia unit would allow the company to "print money" and make an IPO more realistic.
Source: CNBC