Twitter is trialling an increase to its tweet character length that sees the limit doubled to 280 characters from the normal 140 characters.
The test is being rolled out in all languages to a small group of users except for Japanese, Korean, and Chinese – because they can convey more information in a single character in their languages. Twitter will use the trial to collect data and feedback on the doubled length tweets, and make an informed decision as to whether to roll out the higher character limit to all.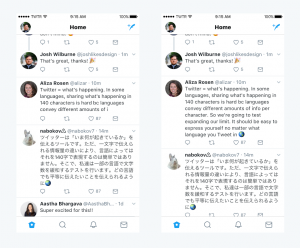 According to Twitter, nine per cent of English tweets hit the 140-character limit, compared to only 0.4 per cent in Japanese. Meanwhile, Japanese tweets are 15 characters on average, but English tweets tend to reach 34 characters.
"Twitter is about brevity. It's what makes it such a great way to see what's happening. Tweets get right to the point with the information or thoughts that matter. That is something we will never change," said Twitter in a blog post. "We understand since many of you have been Tweeting for years, there may be an emotional attachment to 140 characters – we felt it, too. But we tried this, saw the power of what it will do, and fell in love with this new, still brief, constraint."
Source: Mobile Marketing Magazine