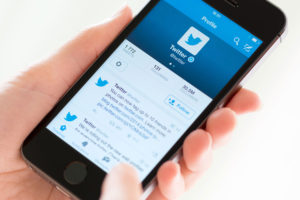 Twitter is attempting to halt alleged cryptocurrency-related scams spreading via its platform, joining fellow social media companies in striving to cut down on harmful content.
Twitter is aware of cryptocurrency-related "manipulation," and is implementing measures to "prevent these types of accounts from engaging with others in a deceptive manner," a spokesman told Bloomberg, declining to elaborate further.
Facebook recently banned ads tied to cryptocurrencies, initial coin offerings and binary options, saying they were associated with misleading and deceptive practices. However cryptocurrency ads have still found their way onto Facebook.
Twitter issued its statement in response to a Bloomberg inquiry regarding the restriction of the @Bitcoin handle. It declined to comment on personal accounts for security reasons. Upon visiting the profile, a caution note appeared saying: "Caution: This account is temporarily restricted. You're seeing this warning because there has been some unusual activity from this account."
The @Bitcoin account describes itself as a site for "Bitcoin News, Information and Price Tweets."
The verified account that provides customer service to Kraken users said on Tuesday that it had been banned from Twitter for trying to alert its customers to the various ways thieves are stealing digital assets online. Kraken, one of the largest cryptocurrency exchanges, later got its ban lifted for its customer support account.
Source: AdAge