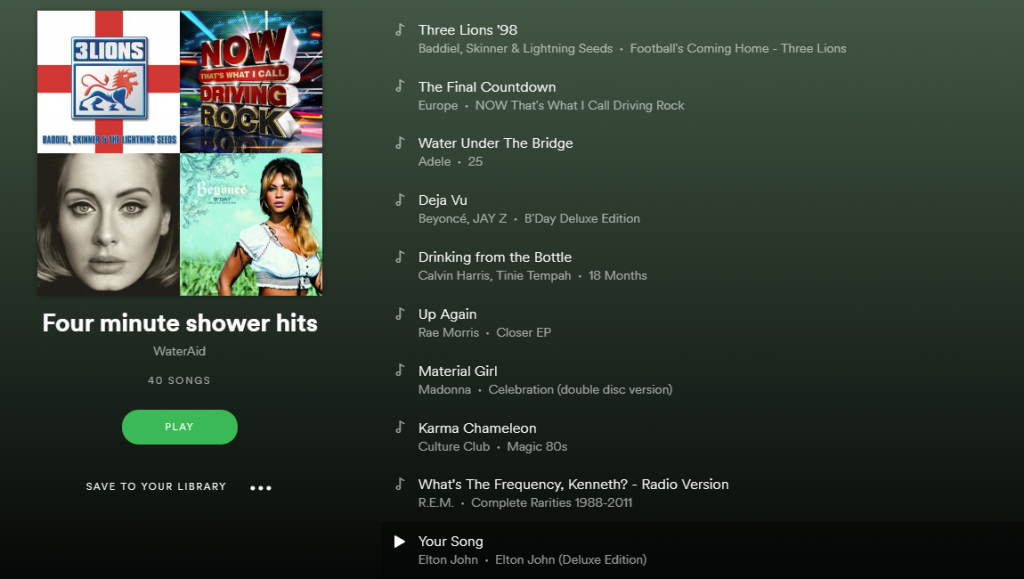 As the UK heatwave continues with predictions of the driest ever June, water companies have urged Brits to shower in four minutes or less to help conserve water; but how do you time your shower to no more than four minutes? If you are an England fan then you can listen to 'Three Lions (Football's Coming Home).
Y&R London has worked with Water Aid, the international charity, which works to improve access to clean water and decent toilets in the world's poorest countries, to create a Spotify playlist of songs that last exactly four minutes to help make sure that showering supporters don't go into extra time.
And the 1998 version of the all-time classic football anthem, currently being sung in pubs, houses, streets and schools across the country, is first to qualify in the group. 
The playlist was a proactive pitch by Y&R London who came up with the idea after seeing headlines about the calls for four minute showers. They pitched the idea at 11am Friday morning and the client signed it off and released the list by Friday evening.
Non-football fans out there can opt for a more water-related shower-time track by listening to Adele's 'Water under the Bridge while other songs include Europe's 'The Final Countdown', REM's 'What's the Frequency Kenneth?' and Blur's 'The Universal'.
For more four-minute shower tracks, see the Spotify playlist here: bit.ly/wateraidspotify
Paul Lawson, Chief Executive of Y&R, said: "We're really pleased that WaterAid is up for getting involved with such a simple, yet profound, idea. This is musical behavioural economics at work!"
WaterAid Chief Executive Tim Wainwright said: "The heat is on for both the England team in the World Cup – and the country's water supplies so we should all do our bit to reduce our water use during the heatwave. Lathering up to Three Lions is a perfect way to build up to the big game on Wednesday and make sure you don't go into extra time in the shower. On average an eight minute shower uses around 65 litres of water – which is over three times the amount many people in the developing world rely on for a whole day."
Source: Y&R London