Whatever kooky, topical jokes can be made about 2016, it was not a funny year for the world's refugee crisis. The number of internally displaced persons (IDPs) and asylum seekers worldwide now exceeds 50 million, with some seven million based in Jordan, Lebanon and Pakistan alone.
This has unsurprisingly put strain on host countries both environmentally and socially, and the hostile reaction from some of the UK's media and political institutions to the arrival of a relatively small amount of refugees is only an example of the negative perceptions that exist around mass human movement in the west.
The UN believes that there are sustainable solutions to the ongoing crises, aside from geopolitical resolution. Supporting productive capacities and fostering employment are two keys to a workable resolution.
But providing refugees with work is not easy, as Pablo LoMoro, senior adviser on strategy at the International Trade Centre explains: "For those displaced – particularly the young – options are limited. Without a skillset linked to employment opportunities, they remain trapped in fragility and dependency. Humanitarian organisations provide extensive literacy and vocational training. Although they're useful, these initiatives can only lead to sustainable outcomes in as much as they lead to concrete incomes. In short, training makes most sense when the skills acquired can be applied in a real-live context."
On top of this, there are myriad stories of doctors, dentists, lawyers, teachers and more all but losing their professional job titles to the overarching branding of 'refugee'. Those that leave their homes due to conflict are not uneducated; they have skills.
Looking for further employment solutions, LoMoro took part in a one-day hack alongside educational institute Hyper Island in Manchester. Hackers were tasked with finding ways that technology and the internet could be used in order for refugees and IDPs to build up skills and earn income on their own. They decided to create an app and the idea of Uable took shape. It's a platform that gives refugees the chance to earn money by translating documents from businesses around the world.
Brand experience agency FreemanXP came on board as the project's pro bono agency and worked with the team to create an identity for the app. The term Uable was derived from 'UN' and 'able'.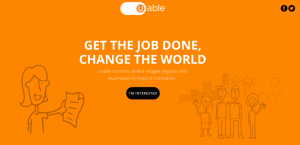 The system also vets refugees translating skills through two tests, with training provided in between.
"Our partner NGOs have indicated willingness to make translation training available to participating refugees," explained LoMoro. "This is not an easy skill. For now, we are still in 'test mode' exactly for this reason. And also because we are currently looking for seed capital to deploy Uable beyond the small tests carried out so far."
The system also incorporates expert translators, revisers and proofreaders into the work flow to make sure the final translations are accurate. Assistance will also come from the United Nations High Commissioner for Refugees (UNHCR) to ensure the translators are protected while carrying out work.
There is no solid payment process in place, however it will be different in each country, as regulatory frameworks differ across the globe. "So far, we have found legal and reliable ways through PayPal and/or Mpesa (mobile phone based payments)," said Lo Moro. "Partner NGOs can also help."
The user interface is currently being prototyped for ease and simplicity, but will include both a client facing portal and a translator interface. Marketing plans – insofar as getting the app into hands of businesses and refugees – will be announced at a later stage.
The following step is to secure seed capital and take the testing to the next level," said LoMoro. "So far, all indications are that Uable has a viable business model. We need a little more testing and upgrading before reaching out in earnest."
Source: The Drum