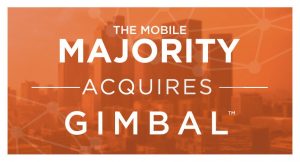 The Mobile Majority, a data monetization and mobile media execution solution announced that it has acquired Gimbal, the leading enterprise-grade mobile engagement and location intelligence platform used by some of the world's largest brands, retailers, advertisers, venues, and out-of-home (OOH) networks.
Gimbal's sophisticated location services infrastructure and data will help The Mobile Majority's clients and partners create more contextual mobile advertising, stronger audience targeting capabilities, better measurement, and true offline-to-online attribution.
Gimbal was incubated inside Qualcomm Incorporated starting in April 2010 and began developing two new emerging mobile businesses and products: a geofencing and contextual awareness platform and a secure BLE beacon solution. In June 2012, the enterprise-grade SDK was released, and Gimbal was established as a private company in mid-2014.
"The acquisition of Gimbal is a massive step toward realizing the promise of relevant advertising," said Rob Emrich, CEO and founder of The Mobile Majority. "By combining Gimbal's location software, hardware, and data with our media buying platform, we can further realize the potential of true 1-to-1 targeting and attribution. There are hundreds of companies in this space, but there are only a handful that control a critical mass of source data. This acquisition likely puts our company as the largest non-public source location data owner in the space."
"Joining forces with The Mobile Majority will enable our customers and partners to access not just to Gimbal's engagement platform but a full-stack location advertising and data intelligence solution that offers new monetization opportunities," said Chas Wurster, CTO of Gimbal. "We are excited to join the fastest growing technology company in Los Angeles and proud to continue representing Southern California's growing tech base."
Additionally, the acquisition of Gimbal provides the combined company with new and advanced ways to monitor data in a market where the variety and richness of data are at a premium. Specifically, Gimbal's pre-existing relationships with many premium app publishers via SDK offer signals of intent that aren't diluted or anonymized, but in fact drawn directly from the source.
"By combining resources with Gimbal, The Mobile Majority's audience data allows partners to create custom audience networks and reach extension solutions beyond the scale and accuracy of the walled gardens – driven by incredibly sophisticated location infrastructure, data-driven behavioural insights, and deterministic identity matching," added Don Norton, GM of Channel Partnerships.
Source: The Mobile Majority