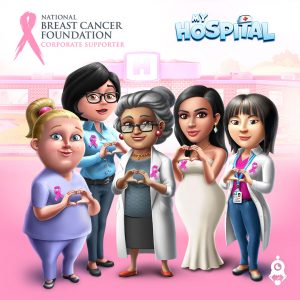 My Hospital is a hit game, which won the hearts of users all around the world. Since its launch in January 2017, it has been downloaded 6.2 million times. The game allows players to manage their own hospital and treat the patients with a variety of self-crafted medicine. Thanks to the humorous animations, graphics and sound effects My Hospital provides lots of fun to any player, regardless of the age and gender.
There is a large and engaged community that grew around My Hospital, which has actively communicated their ideas about upgrades and changes to the game from the beginning. For many of them the hospital reality is not only a distraction, but also their everyday work or fight for recovery, in which their face many limitations. With them in mind, Cherrypick Games had decided to start a partnership with National Breast Cancer Foundation, one of the largest foundations of this type globally.
"We are putting a lot of attention to players' opinions and we value the wonderful atmosphere that they have created around the game. My Hospital player base is mainly female and we feel that we can help to raise their awareness of breast cancer testing and preventive treatments. We also admire the work of the Foundation and we are proud to become its partner," said Marcin Kwaśnica, the CEO of Cherrypick Games.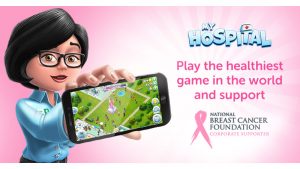 An announcement of the partnership with National Breast Cancer Foundation had appeared directly in My Hospital, which is played daily by up to 160 thousand people worldwide.
"This co-operation is not a one-off action for us, but an element of our long-time strategy. We're a young, growing company and we want to engage in such activity in the future as well and use our games to support such positive causes," revealed Marcin.
The partnership has started on 16th November. For a whole year My Hospital players will be able to help the National Breast Foundation in its battle with cancer.
Source: Cherrypick Games