Marketing automation platform Punchh and TGI Fridays UK revealed results driven by the casual dining chain's new mobile app, expanded customer loyalty and relationship programs. In just four weeks, TGI Fridays realised significant uplift over multiple key performance indicators, including:
Loyalty Visits: Up 61 percent
Signups: Up 30 percent
Unique guests: Up 51 percent
Loyalty Revenue: Up 66 percent
Referred users with a verified visit: Up 300 percent
The updated mobile experience and loyalty structure are part of a brand refresh for Fridays in the UK, driven by new Chief Marketing Officer Steve Flanagan, formerly Marketing Director of Starbucks EMEA. Under Flanagan's leadership, the brand has overhauled its digital presence and updated the in-store experience with new brand identity and the addition of vegan menu options.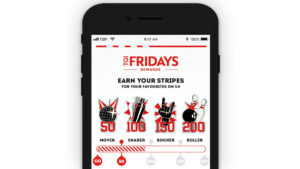 Expanding on a relationship in place since January 2015, TGI Fridays enlisted Punchh for the new app with the goal of increasing customer engagement as well as assisting in customer acquisition. Building on the gamification approach of the previous iteration, also developed with Punchh, the updated app replaces the "Scratch, Match and Win" probability-based program with a spend-based system of "stripes" or points that can be used to unlock different reward options.
Punchh CEO Shyam Rao, said: "TGI Friday UK's mobile marketing success is a shining example of how brick and mortars can leverage digital customer engagement strategies to grow their businesses. We look forward to continuing our relationship with Fridays and helping them to not only attract and retain customers, but also turn them into loyalists."
Flanagan added: "This new app and loyalty program are a huge leap forward in mobile customer relationship management for us, and we're excited to see such immediate, remarkable results. It's clear that the ability to communicate with existing and potential guests at the time and place they choose has immense value, and the positive impact we've seen to date are certainly only the beginning."
Source: Punchh