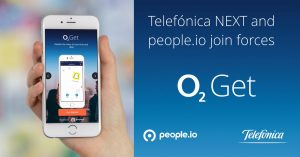 Multinational telecoms company Telefonica has formed a partnership with People.io, a UK-based personal data startup, to give German consumers control over elements of their personal data.
The deal will see a co-branded version of the People.io app, called O2 Get, launched as part of Telefonica-owned O2's Germany app portfolio on both the Play Store and App Store. It will ask users questions about their interests, activities and habits in order to engage more effectively with brands – however, the data will be owned by the users, and never sold or shared with the brands or advertisers. Users will be rewarded for their answers with credits that can be redeemed for digital gift cards or donated to charity.
"When we started, the opportunity to create a data solution that focused on empowering consumers, was viewed with scepticism by an industry with a desire to maintain the status quo," said Nicholas Oliver, founder of People.io. "Finally, we are beginning to see the early stages of a cross-industry data revolution where consumers are put first, driven in part by regulation but also by the advancement of technology such as machine learning and artificial intelligence. Our launch with Telefónica Germany is a clear signal to the world that giving a person control and ownership of their data can work for consumers and big industry alike."
People.io launched in January 2016, but only came out of beta in February of 2017. It boasts more than 35,000 active users and over 4m data insights.
Source: Mobile Marketing Magazine