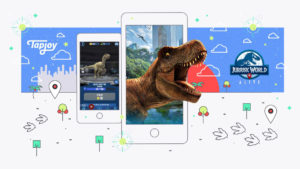 Mobile advertising platform Tapjoy has added dozens of big name apps to its network including Voodoo's Helix Jump, PerBlue Entertainment's Disney Heroes: Battle Mode and Ludia's Jurassic World Alive, for which it has been named exclusive advertising provider. The new additions enable Tapjoy's ad platform to reach around 780m mobile consumers a month, generating an average of more than 40m completed ad engagements every day.
Jurassic World Alive uses augmented reality to let players explore their own neighbourhoods, searching for a variety of dinosaurs featured in the movies Jurassic World and Jurassic World: Fallen Kingdom. The app has generated more than 11m installs since launch and quickly became a Top 5 free game in over 30 countries on both the App Store and Google Play app stores, where it has a combined user rating of 4.4 out of five stars.
"We are very excited to work with Ludia and Universal to power the in-game advertising for Jurassic World Alive," said Benjamin Chen, senior vice president and general manager of global developer relations at Tapjoy. "By bringing some of the biggest brands and best ad creative to a game with such popular intellectual property, we are once again proving the power of rewarded advertising to deliver value for all parties involved – the publisher, advertisers and consumers as well."
Tapjoy has seen its revenue grow 20 per cent year-on-year for 2018 to date, while Q3 represented its best financial quarter ever in the company's 10-year history, with a 30 per cent year-on-year growth rate. In addition, Tapjoy has strategically focused its efforts on programmatic supply and demand in recent years, which saw an impressive 750 per cent year-on-year revenue growth rate.
2018 has seen the firm partner with hundreds of new apps, including some of the biggest names in mobile publishing and gaming, and run campaigns from brands including 20th Century Fox, Target, Adidas, Pandora, P&G, Facebook, Nickelodeon and more. Earlier this year, Tapjoy launched its Interplay Studio, which designs custom-branded ads optimised for the mobile gaming environment.
Source: Mobile Marketing Magazine