At the 2016 Cannes Lions International Festival of Creativity, the Swedish Tourist Association along with creative agency INGO Stockholm, won a gold award in the mobile category for their creation of The Swedish Number, which allows people from other countries to call any Swede who has downloaded the Swedish Number App.
In 1766, Sweden was the first country to make censorship illegal. To commemorate the 250th year anniversary of their freedom of speech, The Swedish Tourist Association created an app that allows Swedes to talk about their country freely with foreign callers.
People who are calling from abroad are connected with a random Swedish "telephone ambassador" and can talk about anything — hopefully Sweden related. This gave the Swedish people the power to change their country's image by using their own freedom of speech.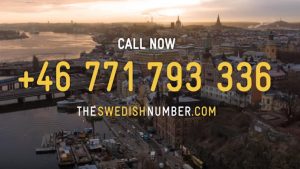 The app works by using the world's largest cloud-based switchboard that connects calls from outside Sweden to Swedish "telephone ambassadors." To become a "telephone ambassador," you must have a Swedish telephone number. You can download the app from the app store and then if you choose to have your app on, you will be put in line to pick up a foreign call. You can choose to switch the app off if you do not wish to receive calls.
This gave Sweden its own telephone number in which any Swede can pick up. Even Stefan Lofven, the Prime Minister of Sweden, has picked up a few calls.
Over 128,000 calls came into Sweden from 178 different countries and the 26,000 people answering represented all of Sweden's demographics. The campaign accumulated over 9.1 billion impressions and a media value of 146 million US Dollars.
The Swedish Tourist Association wanted to attract tourists during a time when so many countries are closing their doors to visitors. To do so, they wanted people to experience Sweden for what it truly is, not through the eyes of a marketer.
Article by Haley Manin, Lovely Mobile News