SVPER Ltd, the social, instant video-only app for forming new real-life relationships in real time, announces the launch of an Initial Coin Offering (ICO) pre-sale of its cryptocurrency, SVPER Token.
The SVPER video-only mobile app aims to disrupt the dating and social networking apps industry by encouraging users to meet new people safely in real life.  It is aimed at people who are tired of swiping on traditional dating apps and seeks to overcome all of the drawbacks of online social networking and dating app interaction.
SVPER's innovative concept replaces user profiles, pictures and text messages with instant video invitations. Instead of a static photograph and a wordy description, SVPER uses a video posted by the user to post an instant invitation to which other users can RSVP. Users can see what people near them are doing (or planning to do), choose the activity they would like to join, and meet them in person straight away. When they meet up they earn rewards in the form of SVPER Token.
By integrating blockchain technology, SVPER leverages the advantages of the ERC-721 standard in Ethereum blockchain to increase the security, trustworthiness and transparency within the app. Through a scoring system, users are able to have a "digital DNA" on the blockchain thereby eliminating fake profiles and bots. The blockchain also supports SVPs that users earn or buy which can, in turn, be used to make purchases through the app.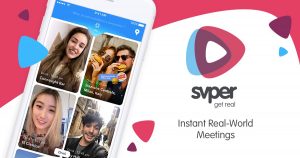 Jean-Baptiste Fort, co-founder and CEO, said: "What makes SVPER unique is that it is harnessing the power of the internet and blockchain technology to encourage people to meet up in real life. It is the first mobile application that rewards its users for meeting new people in the real world! The main benefit to the users is that it is instant. There are no silent matches, no text messaging, and no chatting before. They can chat when they meet each other in real life. The idea is to find companionship and it is even better if companionship develops into romance and lifelong friendship."
The adoption of smartphones increased to 4.92 billion global mobile users in 2017 (Digital in 2017 Global Overview report from We Are Social and Hootsuite), meaning that mobile phones have now surpassed desktop internet use.
The social networking industry is one of the most profitable industries in mobile apps today, in particular online dating which accounted for USD$1.3 billion in 2017 alone (according to the market analysis by statista.com).
In a report from Technavio, it Is predicted that the online dating market will grow at a CAGR of more than 5% by 2021.
Source: SVPER Ltd