The indie sock seller, Stance, in partnership with Zambezi, won the mobile category's gold award at the 2016 Cannes International Festival of Creativity, for its Star Wars sock line's innovative online shopping experience.
Stance had to compete with large name brands such as Target and Walmart, who were spending loads on promoting their own Star Wars sock lines, during the height of excitement for the new Star Wars movie.
To do this, Stance had to come up with a more creative marketing strategy. They decided to team up with Zambezi to create an online user shopping experience like none other.
Stance infused the Star Wars story line into its online shopping experience by recreating the force, made so famous by the Star Wars movies. Through intuitive UX, shoppers could use the force to buy their Star Wars themed socks, without ever having to touch their screen.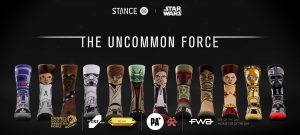 A team of 8 experts took 4 weeks to create original sound design and stop motion animation that recreated different Star Wars scenes with the Star Wars socks and to perfect the accelerometer navigation (or the force) that was used by shoppers to explore the site itself.
"Shop with the Force" had great success. Not only did the campaign experience immense social buzz, with over 3.4 million activations and #Stance becoming the number two trending hashtag on Twitter, but it beat sales projections by 300%. On Cyber Monday, Stance sold the most socks it has ever sold in a single day. Online shoppers were spending an average of 3 minutes on the site, using the force to explore the different Star Wars socks.
Stance created a low budget marketing campaign that synthesized its product story to the story of Star Wars which in turn helped it stand up to its big name competitors.
Article by Haley Manin, Lovely Mobile News
Source: Cannes Lions Festival