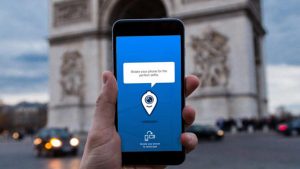 Professional photographer, Sharon Latham, has joined forces with Apadmi and England goalkeeper, Joe Hart, to create a travel selfie app.
Selfie Guide guides you around the world and helps you take the perfect selfie.
The Lancashire photographer said she was inspired by the "abundance" of poorly taken selfies and she wanted to create an app, which not only helped with filters and positioning lines, to construct the image better, but also had directions to popular spots.
Supported by Joe Hart, Latham, who's been the official photographer for Manchester City, Noel Gallagher, The Stone Roses, Coldplay and Muse, approached Apadmi to design and build the app.
"We've been building apps and working with mobile solutions for years, so we're used to people coming to us with just an idea and bags of enthusiasm wanting to build something great," said Apadmi CEO, Nick Black. "We've loved watching this app unfold into the useful tool it now is for budding photographers, and we're excited to watch it grow."
Latham travelled to 22 locations in 6 months to feed back every detail of her experience to the digital agency. They then converted each picture and coordinate into 22 city guides.
Hart was involved in the app concept, branding and logo.
"When I came up with the idea for Selfie Guide, I wanted to help people create great imagery. It's taken a few months to perfect, but I couldn't be happier with the result," added Latham. "The team at Apadmi helped me to realise this idea to the fullest potential, and they added the fun features and design elements that make this app a unique, useful, engaging experience for everyone who uses it."
Source: Prolific North