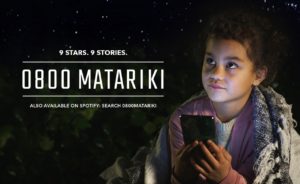 New Zealand telco Spark has released a new activation that aims to showcase Maori oral traditions by celebrating Matariki, a star cluster that occurs in late May or early June and marks the beginning of the new year.
People who dial 0800 MATARIKI will hear nine stories for every star voiced by four Kiwi. They are Rangi Matamua, Stacey Morrison, Te Karere host, Scotty Morrison, and Tikanga expert, Rhonda Tibble. The stories are also available on Spotify here.
The campaign was created by Colenso BBDO, with help from University of Waikato professor Dr Rangi Matamua, who wrote 'Matariki: The star of the year', based on the Matariki stories from his ancestry of Maori Astronomers, and TV and radio presenter Stacey Morrison.
"For centuries, Maori have passed down stories of Matariki by oral traditions to future generations from within their marae, but now technology can help us to share this significant part of Maori culture with more New Zealanders," said Lisa Paraku, the head of Maori strategy at Spark.
Mike Davison, a creative director at Colenso BBDO added: "Using tech to help people recognise and support Maori culture is an amazing role for a company like Spark to play. It's great to see more brave work like this from one of New Zealand's biggest companies."
Spark previously launched an interactive mobile app called 'Kupu', as part of the Maori Language Week, allows users to input words and Māori translations for pictures they take on their phone. The app serves up the most likely translation, as well as other options for what it detects in the image.
Source: The Drum