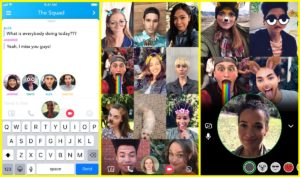 Snapchat has began rolling out the ability to video chat with up to 16 friends at the same time, as well as introducing a way to tag friends in Snaps.
To create a group video chat, users have to enter an existing group chat, or create a new group with the people they wish to video chat with. They then have to tap the video icon to start the call and each member of the group will receive a notification to join. While in video chats, users will also be able to enjoy the use of face lenses.
Alternatively, users can have a voice chat with up to 32 friends by tapping the phone button instead. People in video chats can toggle between video and voice, if they aren't quite ready to appear on the camera.
In addition, Snapchat is rolling out mentions. Over the next few weeks, users around the world will gradually be able to tag their friends in Snaps by typing '@' followed by the username of the person they wish to tag. People tagged are notified in chat.
Source: Mobile Marketing Magazine