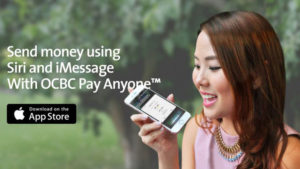 OCBC, a Singapore-based bank, has launched the ability for customers to do day-to-day banking tasks via the app and Apple's Siri.
According to the bank, customers with the app can now log on and command Siri to help with banking tasks by using their voice.
Using the service, users can check their bank account balances, outstanding credit card balances and details, as well as make instant e-payments to friends and family as long as they use the PayNow service in Singapore.
While most actions can be activated and completed via voice, for security reasons, a validation via fingerprint or facial recognition is required to send money.
Aditya Gupta, OCBC Bank's head of e-business Singapore, said: "This is the new digital – conversational, more natural and faster access to banking. This latest service marks a major milestone in banking as it brings us one huge leap closer to making natural language voice-activated banking and payments a reality. This is just a start – we will continue to embed ourselves in our customers' everyday lives using voice-powered AI tools which they will be able to use for more banking transactions such as bill payments, money management and common servicing requests in the future."
The app was created in-house by the e-business team, alongside its in-house mobile development team.
Singapore banks are pushing the boundaries in how customers can interact with its customers digitally. In 2016, DBS launched video banking and banking via chat bots.
Source: The Drum