What started as a spin-off project from Samsung's experimental C-Lab arm is now a fully fledged, fully funded product that makes you look like a secret agent when you answer your phone.
The smart strap from Korea-based Innomdle Lab connects to your phone via Bluetooth and allows you to listen to phone calls conducted through the tip of your finger into your ear — and talk through a mic in the strap itself. Though an earlier prototype of the device was showcased at CES 2016, known then as TipTalk, Sgnl arrived at 2018's CES ready for its final retail launch after successful campaigns on IndieGogo and Kickstarter. It costs $249, which converts to about £190 or AU$325.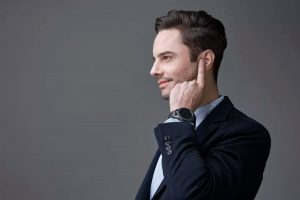 The device works by transmitting audio vibrations through a button-shaped "body conduction unit" that sits on the underside of the strap. The vibrations travel up your hand and skin all the way to the tip of your finger. It works similar to hard-tissue conduction audio technology, which has been previously used by Kyocera to transmit audio calls directly from a phone's surface to your ear without the use of an in-ear speaker.
Once your finger touches the inside of your ear, the sound is amplified and you can hear your call. A small mic on the strap lets you talk back.
Sgnl doesn't store any contact information, but you can program up to five numbers so you can "dial" those contacts without having to whip out your phone. You can attach Sgnl to a regular watch face to combine your old and new tech together. It also works with the Apple Watch (though the Apple Watch Series 3 lets you carry out calls on its own) and Android Wear watches such as the Moto 360 or LG Watch Style. It works with phones running Google Android 4.4 and iOS 9 or later.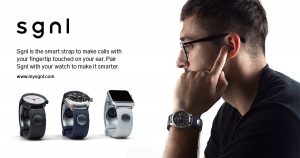 With its 200mAh battery, it offers about 3.5 hours of talk time and four days of standby time. So while it's not supposed to be used as a primary calling device, you can use it to quickly answer calls throughout the day without needing to take out your phone.
Innomdle also showed off a prototype of the Sgnl S, a smart strap that turns a regular watch face into a fitness wearable that tracks your steps and calories.
Source: CNET