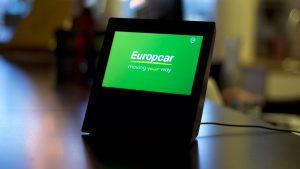 hmmh has been developing a special skill for Amazon Echo and Amazon Echo Show to permit Europcar customers to order their desired vehicle easily using the voice-controlled assistant.
Business customers of Europcar are thus able to book rental cars using devices with Alexa integration – without having to use a web browser or local rental stations.
As one of Europe's leading rental company, Europcar is the first company to use a skill for voice interfaces by Amazon in B2B business. This new service was introduced at the currently ongoing GTBA Conference 2017 in Frankfurt.
Renting Cars Per Voice Control
Customers can reserve a rental car from Europcar per voice command in a guided dialog. The user can complete the reservation by stating his booking period, pick-up and return locations, and desired vehicle. The system can also be used to cancel existing reservations. Personal preferences and personalized settings are already considered. In the first phase, business and premium customers will be able to use this service.
"New and innovative approaches like the skill for the Amazon speech assistant help us offer even better service to our customers and make booking rental cars even easier and more comfortable." explains Stephan Lahl, Head of Client Implementation, Performance & Online Management at Europcar.
Agile Processes With Focus On Benefit And Well-Performing Interfaces
During the conception and agile implementation, the focus always lays on integrating high-performance interfaces with the Voice Multiple Interface Alexa in the centre.
"When we started with the development there was no documentation or examples for the Java skill kit by Amazon Echo Show. We had to reverse engineer and even developed basic instructions for other developers", so Marcel Naujeck, Innovation Engineer at hmmh.
The Alexa skill for Europcar is now continually developed further in an agile process – always with customer benefit in focus.
"Programming this Amazon Echo Show Skills was real pioneering work by hmmh. At the time the development started, there were no such services available in Europe." Stephan Lahl says with some satisfaction. "I look forward to more exciting work with them."
Amazon Echo Show new on the German market
The Amazon Echo Show has been available in Germany only since November 16. This new variant combines the benefits of voice commands and visual formats and creates a new user experience. Amazon Echo Show has a 7-inch touchscreen to be able to display information on a screen in addition to the language output.
Source: Serviceplan Group