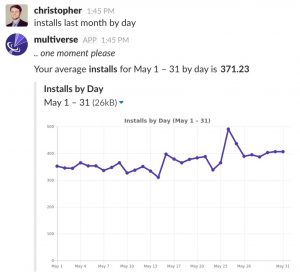 TUNE, one of the global leader in mobile marketing solutions, announced the release of tunebot, the first chatbot built specifically for the mobile marketing industry.
Tunebot, available within the popular team messaging service Slack, is designed to enable TUNE customers to quickly and easily interact with marketing and advertising data such as quickly looking up reports or calculating return on ad spend.
By logging into the Multiverse product, TUNE customers can setup tunebot and then ask it to return specific results, graphs and charts that highlight key metrics like the cost per click on Google Adwords, the number of app installs by day, or over time, revenue per impression, as well as return on ad spend. Enabling tunebot is as simple as authorizing TUNE for your Slack team and then logging into Multiverse directly within Slack.
"We integrated tunebot with Slack to give us quick updates on our daily performance without the need to check the platform manually. I can check volumes and CPI by channel or platform just by typing to tunebot in Slack, which saves us time and allows us to make optimizations faster," said Jennifer Crook, Marketing Manager, Revl Ltd.
"We believe all marketing should be measured and judged on performance. To be most effective, marketers also need access to measurement and performance in different forms, depending on what they need to know. The first of its kind, tunebot adds a new layer of quick access to KPIs or partner performance by simply asking a question," said Peter Hamilton, CEO of TUNE. "I'm really excited to see how marketers use tunebot. It will continue to evolve quickly the more requests it receives, so please start using it and sending your feedback!"
Source: TUNE